When the ultimate agnostic runs headlong into the quintessential evangelist, what if neither man is quite who he professes to be?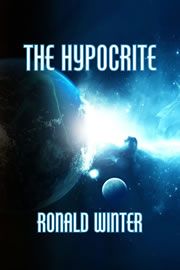 The Hypocrite by Ronald WinterBruce McAllister, former Marine and hungry advertising copywriter, reluctantly goes to work for Moran Smythe, a business owner and self-professed evangelist with much to disguise. The public image and internal circumstances of Smythe Partners, Ltd. do not co-exist easily. Elder Derrick Simpson, leader of the flock at the Church of the Lord, comes to understand how distant Moran Smythe's public persona is from the real man's nature. And Elder Simpson also comes to know Bruce McAllister's predicament at work could be helpful to the church and its members. Living and working in close proximity, each man lives his point of view, and each man presses his position to the limit.
As the life-changing explosion of circumstance and personality occurs, who emerges as The Hypocrite?